Bespoke Artwork
All artwork can be made bespoke of course. I do, however have some winning formulas. Take a look below, but if you have something in mind feel free to get in touch.
Letters
My bespoke letter collection is fantastic gift for friends and family, offering someone a personalised and unique present. To create the letters all I require is a list of the individual's favourite things (e.g. music, school emblems, festivals, animals/pets, cooking, films, food etc), hobbies and characteristics.
Pricing starts at £150.00 and can take a week to design and ink.
Double Letters
The letters are also available in pairs and are very popular as engagement/wedding presents.
Pricing starts at £250.00 and can take up to two weeks to design and ink.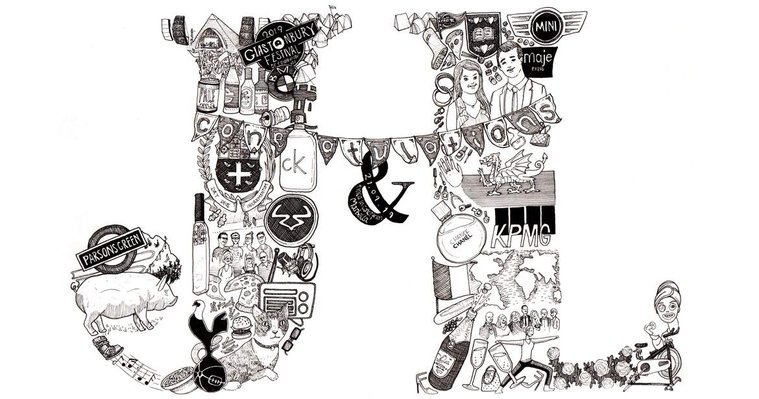 Champagne/Celebration bottle
For special occasions, I've applied the same concept but in the form of a champagne bottle, which comprises of the individual's characteristics, much like the letters. These highly decorative bottles can be adapted to suit the individual, should they prefer whisky or other items like perfume, I can alter the design accordingly.
Prices start at £300.00 and can take up to 3 weeks to design and ink
Honeymoon/Special Event Gifts
To make your honeymoon truly unforgettable, why not go beyond framing a photo and have your trip immortalised in an illustration?
For example, see a map that I designed for a couple recently, that took them on the journey of their safari across the Serengeti. The map takes you on a tour of where they visited and which animals they saw on their route. I can work with you to sketch out what this could be like, depending on your experience.
Prices start at £300 and can take up to 3 weeks to design and ink.
Please do get in touch so we can discuss how I can make you a truly bespoke and individual gift for your loved one!